2023 Belt and Road Journalists Forum Held in Beijing
This year marks the 10th anniversary of the Belt and Road Initiative (BRI). On the 12th, the 2023 Belt and Road Journalists Forum was held in Beijing. Themed "Building a Beautiful Silk Road, Jointly Promoting Prosperity and Development", the forum was attended by nearly 100 heads of journalists' organizations and media representatives from more than 40 countries and regions for in-depth discussions and exchanges.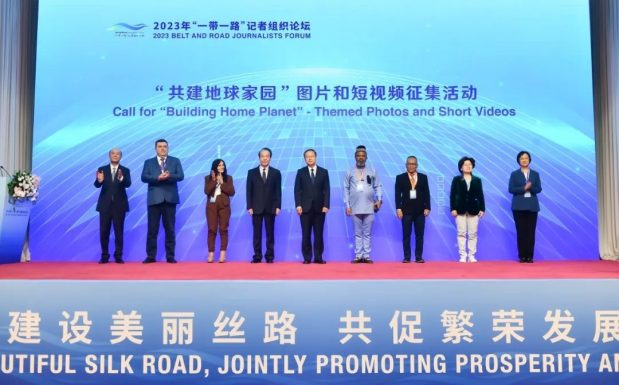 The forum was hosted by the All-China Journalists Association (ACJA). Sun Yeli, Vice Minister of the Publicity Department of the Communist Party of China and Minister of the State Council Information Office, attended the event and delivered a speech.
He Ping, President of ACJA, expressed his wish that through the Belt and Road Journalists Network (the Network), the journalists would join hands in consolidating their friendship for media exchanges and cooperation, telling well the stories of high-quality Belt and Road cooperation, and singing of the theme of the era of "peace, development, and win-win cooperation".
Both the Chinese and foreign guests held that over the past decade, the BRI participating countries have deepened policy communication, enhanced infrastructure connectivity, expanded trade cooperation, improved financial accommodation, and deepened and enriched people-to-people exchanges. All of this has brought extensive benefits to local people's life and injected positive energy into global peace and development. Relying on the Network, journalists from member countries have been steadfast in promoting exchanges and cooperation, remained true to moral courage despite the changing international situation, and helped each other during the COVID-19 pandemic. By cultivating an atmosphere that is conducive to the Belt and Road international cooperation, they made their own special contribution.
The Chinese and foreign guests also expressed their commitment to deepen exchange and cooperation under the BRI framework, and work together to tell well the Belt and Road stories by following the trend of the era and living up to people's expectations. They aim to make their voice heard in the international press community to maintain peace and promote development. By making active efforts in preserving and carrying on traditional culture, making innovations, and promoting coexistence of different civilizations, they are determined to achieve steady and sustained progress of the high-quality Belt and Road cooperation.
Meanwhile, journalist organizations from various countries will also promote the construction of cooperation mechanism of international journalists, so as to better unite media workers for jointly creating a better future.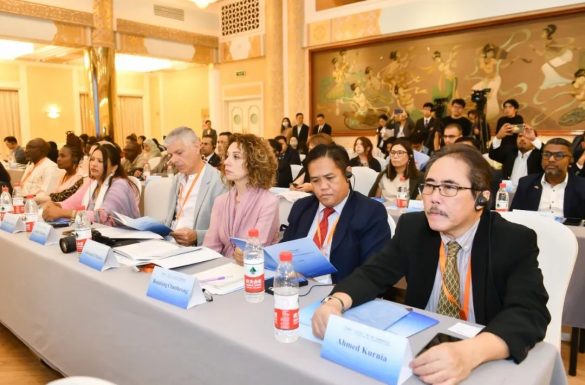 The forum also released the "Join Hands to Embark on a New Journey of the Next Decade – Joint Declaration of the Belt and Road Journalists Organization", announced the List of the "Indomitable Spirit" short video collection winners, and launched the Call for "Building Home Planet"-themed photos and short videos.
Liu Siyang, Executive Vice Chairman of the Network Presidium and Vice President of ACJA, hosted the opening ceremony. Wu Xu, Secretary-general of the Network and Council Member of the ACJA, presided over the forum's discussions.
Lidia Fagale
Presidium member of the BRJN, President of the Union of Journalists of Buenos Aires
Today, after the long separation inflicted by the pandemic, I am thrilled to see all my colleagues again here and meet the new friends who have just joined our network. The Belt and Road Journalists Network has entered its fourth year since its birth in 2019, and I am honored to have served its first chairman-in-office. It is safe to say that the initiative came at just the right time; it is both necessary and strategically important.
The theme of this forum is "Building a Beautiful Silk Road, Jointly Promoting Prosperity and Development". Although different cultures may have slightly different understanding of "happiness", but in my opinion, "happiness" is a subjective state and an engine that triggers thinking and understanding, and it makes it possible for us to be immersed in the magic and charm of knowledge and history, prompting thoughts and self-reflection. And of course, our compass always points to the life in a better world, in which equality reigns, scarcity is rare, and people are more united. And we are moving towards that goal despite the difficult circumstances and challenges.
Yang Hua
Convener of the Innovation and Development Research Center, CMG
As Confucius once stated, "When there is good government in a country the people at home are happy, and the people in other countries will come." China Media Group (CMG) has always been a "media" for making friends. By holding various media events with diverse themes, in rich forms, and through different channels such as the first CMG Forum, overseas film festivals, and themed events like "China and the World on a New Journey," "Chinese Modernization and the World" and so on, it has continuously expanded its circle of friends and improved its global news gathering network, playing an important and unique role in telling the story of China, the stories of Belt and Road countries, and the story of building a human community with a shared future.
In the practice of exchange and mutual learning, we have become keenly aware of that a beautiful Silk Road cannot be built without vivid narration, a forward-looking vision and close cooperation. As a Chinese saying goes, "Even mountains and seas cannot distance people with common aspirations."  It is our firm belief that with the joint efforts of the Belt and Road Journalists Network and media counterparts from various countries, we can count on each other's help between Belt and Road countries, draw on each other's experience as we carry on our cultures, and work hand in hand in pursuing the Belt and Road initiative, so as to better spread the truth, convey the voice of justice, demonstrate the beauty of civilizations, and write a new chapter of win-win cooperation.
Atal Depari
Presidium member of the BRJN,
Chairman of the Confederation of ASEAN Journalists and of Indonesian Journalists Association 
The Silk Road, once an ancient network of trade routes connecting East and West, symbolizes not only historic trade but also cultural exchange and cooperation. Today, in the 21st century, China's Belt and Road Initiative seeks to revive and expand this historical legacy, fostering cooperation and connectivity between countries. Journalists play an important role in shaping public perception and understanding of this precious undertaking.
In the spirit of unity and collaboration, PWI and CAJ firmly believe that journalism should be a bridge, not a barrier, on the journey to a more interconnected world. Our profession carries a responsibility to increase understanding, facilitate dialogue, and hold those in power accountable. It is our duty to provide accurate, balanced and comprehensive coverage of the Belt and Road Initiative, highlighting its opportunities, challenges and impact on affected communities.
Song Qiangtai
Director of Publicity Department, China State Railway Group Co., Ltd
Railways are strategic, foundational, and critical infrastructure and an important instrument for connectivity. Entering the new era, under the great attention and strong leadership of the Chinese government, China has built the world's most modern railway network and the most advanced high-speed rail network. Now China possesses a railway network with high density and wide coverage that benefits its 1.4 billion plus population and effectively serves and supports the Chinese modernization drive, while also provides Chinese insight and input to the development of railways in the world. China Railway is also becoming an important force for high-quality development of Belt and Road cooperation. Looking forward to the future, we will vigorously carry forward the spirit of the Silk Road, deepen exchanges and cooperation, share development opportunities with other countries, and strive to build a road of development, happiness, and friendship, so as to better benefit the countries and peoples along the Belt and Road!
Vladimir Solovyev
Presidium member of the BRJN, President of Russian Union of Journalists
The cooperation between Russian and Chinese journalists and strengthening and developing our partnership with ACJA have long been one key area of work for our Union. It is worth noting that our cooperation under the Belt and Road Framework (BRF) is becoming more and more important and rich.
Under the BRF, Russian and Chinese journalists are striving to create an information space conducive to enhancing mutual understanding and trust between us. With concerted efforts, the journalists are carrying out joint projects and important analytical work, curbing the dissemination of false information, and reporting on the culture and media of both countries.
The partnership between Russian and Chinese journalists within the BRF project not only promotes the exchange of information, but also deepens friendly relations between our two countries. And the role of journalists in our cooperation under the BRF is invaluable. They play a crucial role in exchanging information, enhancing understanding and building the positive images of both countries.
Merlo Giovanni
President of the International Sports Press Association (video speech)
I am very glad to participate in this forum that is speaking about this, because the culture allows the people to be together to exchange experience, to have the possibility or also sometimes to argue and to find solutions. For this reason, our association in 2018 has launched the first AIPS Sport Media Awards.
And sport is very important to modernization. And also it helps to open the mind. Because the most important thing for sport is that it allows the people to meet each other, allows the young generation to stay together.
And for this reason, we sport journalists are very happy that we can continue to open new doors. And we are here for this. We have also some programs as regards the young reporters. Why? Because the young generation are the future.
We all journalists with experience, we have to teach them something or to give them advice. Because after they will decide which road they have to follow. Because the road of the culture is very important. It is always changing.
Gu Xuebin
Member of Standing Committee and Director of Publicity Department, CPC Chengdu Municipal Committee
The 31st Summer Universiade was successfully held in Chengdu. More than 6,500 athletes from 113 countries and regions around the world chased their dreams in the city, demonstrating the beauty of youth, friendship, inclusiveness, and cultural exchange. Journalists from overseas media have marveled at the success of the Universiade and expressed their love for the city by launching reports, giving interviews, handwriting greeting cards, and exchanging badges.
At the welcoming banquet, President Xi Jinping stated, "Chengdu has long been a hub of exchanges connecting China to the rest of the world"; "Today, Chengdu is one of the most dynamic and happiest cities in China. Thanks to its inclusiveness, the city has continued to prosper economically and thrive culturally since it was founded over 2,300 years ago."
With superior natural conditions, a long history, and unique cultural heritage, Chengdu has always been a place of essential political, economic, and cultural significance. It is the starting end of the Southern Silk Road and an important link in the Belt and Road routes. Openness and inclusiveness have been in the city's nature. Over the past decade, Chengdu has seized major strategic opportunities such as the Belt and Road Initiative (BRI) to deepen its opening up and cooperation with the rest of the world. It has comprehensively strengthened economic, trade, and people-to-people exchanges with Belt and Road countries and achieved a historical transformation from an inland city in western China to an international gateway hub.
Ahmad Salam
Egyptian Expert of Chinese Affairs with Algomhuria and Al Ahram
Egypt and China have the long-standing and friendly relations, which are an example of communication, cooperation and dialogues in bilateral relations. Egypt has always regarded China as a reliable partner in building a community with a shared future for mankind and realizing all-around development. The sincere cooperation between Egypt and China has also promoted a deeper relationship between our two countries.
Our two countries are working together to build a community with a shared future for mankind and enhancing our communication and coordination to implement cooperative projects within the FOCAC framework and China-Arab initiatives and deepen our BRI cooperation.
Guy Mettan
Founder of Geneva Press Club, Switzerland
In short time, much progress has been made, at a quiet but resolute pace. It's better to move forward slowly but surely than to multiply empty rhetoric. But let's be under no illusions: there will be a huge resistance to these moves. The West will not stand idly by and will do everything in its power to torpedo the construction of a truly multipolar world, by trying to divide and conquer, as it has done so well up to now. Never in the history of mankind has a dominant or hegemonic power shared its power without a fight, out of a pure spirit of charity.
Together with colleagues, we are proposing to diplomats, academic experts, journalists and other supporters of the multipolar cause and equitable economic development, from China and other cooperating countries, to set up a "Multipolar Institute" in Geneva and other world cities, a network think tank on multipolarity, in order to stimulate and disseminate the concept of multipolarity and multipolar thinking within international organizations and NGOs that are supposed to defend multilateralism and represent the international community.
Georgina Kekea
President of the Media Association of Solomon Islands
As journalists, we must strive to comprehend how these policies will significantly affect our people and their lives. Our duty is to comprehend our government's policies and convey them accurately to our audience and people. By participating in events like this forum, we equip ourselves with the knowledge necessary to inform our people about how these policies will impact their day-to-day lives. Through my participation here, I aim to gain a deeper understanding of this 'Belt and Road' Initiative so that I can accurately report to my people, this initiative and its potential impact on the lives of all Solomon Islanders.
Bayan Ramazanova
Presidium member of the BRJN, Executive Secretary of the Union of Journalists of the Republic of Kazakhstan
Kazakhstan is an important partner in the BRI project and its being chosen as the place to launch the initiative was by no means an accident. It is known that Kazakhstan is an important hub along the Silk Road with its ideal and strategically important location and close relations with China.
Over the past decade, the concept of a Community with a Shared Future for Mankind has gained extensive recognition and support from the international community, and has been transforming from an idea to action and a vision to reality.
Kazakhstan and China are not only good neighbors but also business partners, and we owe the history, culture and traditions that we share to the Silk Road.
Christopher Isiguzo
Chairman-in-Office of the BRJN, National President of Nigeria Union of Journalists
Our forum convenes this year under the thoughtful theme, "Building a Beautiful Silk Road, Jointly Promoting Prosperity and Development." This theme encapsulates not only the spirit of the Belt and Road Initiative but also the very essence of journalism—the pursuit of knowledge, understanding, and shared progress.
In this era of rapid change, our roles as journalists have evolved. We are not just witnesses to history; we are shapers of it. We hold the power to shed light on issues that demand attention, to amplify voices that need to be heard, and to hold accountable those who wield influence. But with this power comes the responsibility to do so with integrity, accuracy, and a commitment to the greater good.
——————————————————————————————————————————————————————-
Join Hands to Embark on A New Journey of the Next Decade
– Joint Declaration of the Belt and Road Journalist Organizations
(Beijing, China, October 12, 2023)
On October 12, 2023, the 2023 Belt and Road Journalists Forum was held in Beijing, China. Under the theme of "Building a Beautiful Silk Road, Jointly Promoting Prosperity and Development", the participating journalists' organizations conducted in-depth discussions and reached broad consensus. Taking the 10th anniversary of the Belt and Road Initiative as a new starting point, members of the Belt and Road Journalists Network published the following joint declaration on the vision of exchanges and cooperation in the next decade:
We believe that by upholding the Silk Road Spirit and the principles of extensive consultation, joint contribution, and shared benefits, the journalist organizations from around the world have been playing an active role in enhancing understanding and mutual trust among the people of all countries in recent years through strengthened exchanges and cooperation made possible by the Belt and Road Journalists Network mechanism. In the next decade, our joint effort in building the Belt and Road will keep bringing new development opportunities to the world. All journalist organizations should strengthen communication, unite in cooperation, and actively promote friendly exchanges among the press of various countries with the aim of promoting political mutual trust, economic and trade exchanges, people-to-people exchanges and media cooperation between countries, and enhancing understanding, trust and bonding among the peoples.
We solemnly declare that the journalist organizations from around the world shall, based on its functional positioning, pool all the resources available and explore opportunities of cooperation so as to bring the level of exchanges and cooperation of the Belt and Road Journalists to a new height. Therefore, in the next decade, we shall carry out practical cooperation in the following areas:
First, jointly promote the construction of cooperation mechanism of international journalists, carry out various activities, and build bridges for uniting and serving journalists from around the world;
Second, host regional and international multilateral seminars and exchanges around the topics of common interests, promote bilateral mutual visits and information sharing, and work together to cope with opportunities and challenges;
Third, plan and conduct training sessions and activities to provide more opportunities for the leaders of journalists' organizations and major young talents to improve;
Fourth, invite journalists from various countries for joint interviews so as to objectively and truthfully report the achievements of the Belt and Road in various fields;
Fifth, encourage the journalists to focus on exchanges and mutual learning among civilizations, and organize contests such as photos and videos to advocate the diversity of world civilizations.
We are convinced that with the concerted efforts of journalist organizations from all over the world, the Belt and Road Journalists Network will continue to make steady and significant progress, the press communities of all countries will arrive at more and wider consensus, cooperate on a wider range of areas and deepen mutual understanding, and side by side we are sure to usher in a brighter and better future.
* Source: All-China Journalists Association official WeChat account