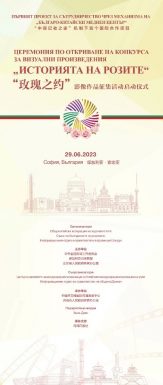 Poster for the video collection campaign "Promise of Rose"
On June 29, local time, the "Promise of Rose", an open call for videos was launched in Sofia, Bulgaria. The event was jointly led by the All-China Journalists Association (ACJA), the Union of Bulgarian Journalists and the Information Office of the People's Government of Shandong Province and co-organized by the China Center for International Communication Development of the China International Communications Group (CICG) and the Information Office of the People's Government of Jinan Municipality. Tian Yuhong, Excutive Secretary of the ACJA, Snezhana Todorova, President of the Union of Bulgarian Journalists, Dong Xiaojun, Chinese Ambassador to Bulgaria, Sun Wenli, Vice Minister of the Publicity Department of the CPC Shandong Provincial Party Committee, and officials of the Bulgarian Ministry of Foreign Affairs cut the ribbon at the ceremony, announcing the kickoff of the campaign.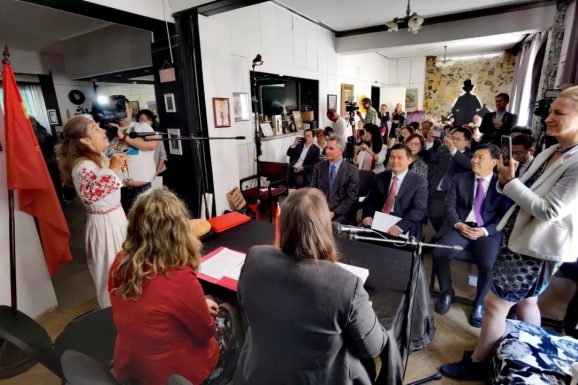 The launching ceremony
The "Promise of Rose" video collection is the first international cooperation project launched under the cooperation mechanism of the "House of Chinese-Bulgarian Journalists". The "House of Chinese-Bulgarian Journalists", inaugurated in Sofia on the same day, is a platform jointly established by the ACJA and the Union of Bulgarian Journalists for the exchange and cooperation between Chinese and foreign journalists, aiming at boosting journalistic cooperation between China and Central and Eastern European countries. It will hold seminars, training programs, mutual visits, work exhibitions and other activities, and provide support and assistance to journalists from both countries in covering news in the other country.
Rose carries the common cultural sentiment and aesthetic taste of the people of China and Bulgaria and manifests the peace-loving and friendship-cherishing spiritual genes and values pursued by both countries.
The video clip featuring roses from Shandong Province played at the ceremony tells the historical origin of this cooperation. Pingyin County in Jinan City is one of the main production areas of roses in China. As early as the 1950s, Bulgarian rose experts had visited Pingyin to investigate and study the local traditional rose cultivation industry.
The "Promise of Rose" is a call open to China, Bulgaria and many other countries for rose-themed video works that present the beauty of rose and the appeal of culture, to facilitate exchanges and understanding between China and other countries as well as to enhance mutual recognition among civilizations and people-to-people relations.
*Source: WeChat account of China Center for International Communication Development of CICG