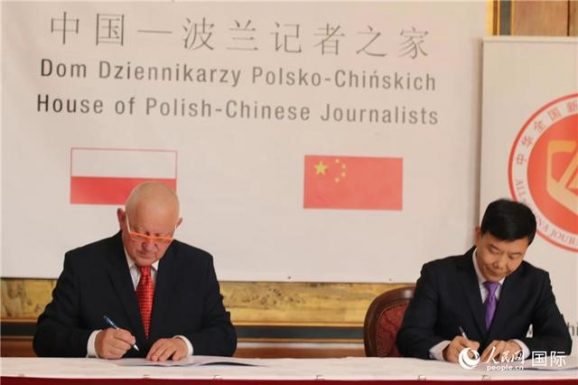 Signing ceremony (People's Daily Online / Yu Limin)
Tian Yuhong, Excutive Secretary of the All-China Journalists Association (ACJA), and Marek Traczyk, Chairman of the Polish Media Association (PMA), signed a memorandum of understanding on the joint establishment of the "House of Chinese – Polish Journalists", in the presence of more than 30 guests and representatives of the press from both countries. The signing ceremony, held on June 26, local time, in the Polish capital of Warsaw, was attended by Jiang Yu, Special Representative of the Ministry of Foreign Affairs for China-CEEC (Central and Eastern European Countries) Cooperation, and Sun Linjiang, Ambassador of China to Poland.
Tian stated at the ceremony that journalists' organizations in China and Poland are good friends and partners. The cooperation mechanism of the House of Chinese – Polish Journalists will be committed to providing better services for journalists from both countries and constantly enhancing the level of journalistic exchanges and cooperation between the two sides. Traczyk, for his part, stressed that the House of Chinese – Polish Journalists is a home shared by journalists from both countries, a home for better communication and mutual understanding, a home that conveys voices of peace and lends a helping hand to journalists when in need.
The House of Chinese – Polish Journalists, established jointly by the ACJA and the PMA, is a mechanism for communication and cooperation between Chinese journalists and their foreign peers, and functions as a new platform for strengthening exchanges and cooperation in journalism between the two countries. It will work in better synergy with cross-regional mechanisms, including the China-CEEC Cooperation Mechanism, and actively promote the exchanges and mutual learning between Chinese and foreign civilizations, as well as people-to-people communication.
Following the signing ceremony, the Chinese press delegation visiting Poland was invited to the dialogue between Chinese and Polish think tanks and media in Warsaw, where the Excutive Secretary of the ACJA, Tian Yuhong, also head of the delegation, made a speech on behalf of the Chinese journalistic community.
*Source: People's Daily Online