The 2019 Belt and Road Journalists Forum held in Beijing on Saturday saw the adoption of the Belt and Road Journalists Network Articles of Association and creation of the first Presidium and Secretariat of the BRJN.
Since it was the first proposed in 2013, the Belt and Road Initiative has changed from initiative to action, from concept to practice and has been highly regarded and widely supported by the international community. Journalists of Belt and Road countries have close cooperation to jointly promote the Silk Road spirit, spread the Silk Road energy, tell good stories and use the Silk Road platform as a convenient channel to cover the BRI.
The presidium is comprised of chiefs of the journalist organizations in China, Russia, Kazakstan, Indonesia, Argentina and Nigeria, who will serve a term of five years.
The establishment of the presidium marks a milestone in the institutional building of the Belt and Road Journalists Network, said Zhang Yannong, President of the All-China Journalists Association. The Network will boost mutual trust and cultural exchanges between peoples of different countries, build an open platform for friendly consultation and equal exchange and facilitate international communication between journalist organizations to jointly promote the objective and fair reporting.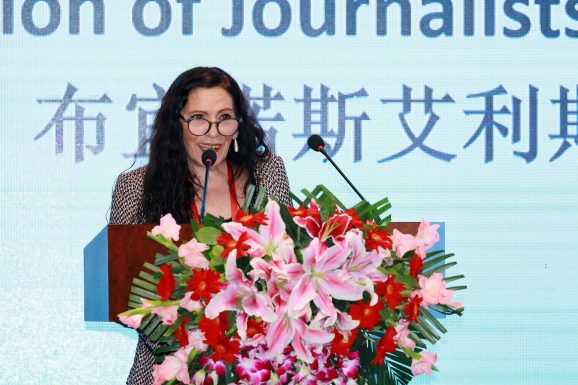 Lidia Fagale, Head of the First Rotating Presidency of BRJN and President of the Union of Journalists of Buenos Aires (UTPBA), is delivering remarks
Lidia Fagale, president of the Union of Journalists of Buenos Aires and the first chairwoman of BRJN said the daily operation of the Network will focus on cooperation for win-win results among the journalist organizations to deepen the friendly ties between the people of the member countries.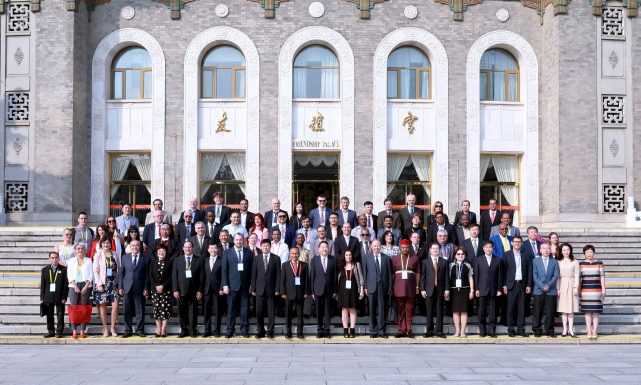 Group photo
Around 60 journalist organization chiefs from more than 50 countries and regions attended the forum and made recommendations to the BRJN on promoting journalism cooperation and spreading the Silk Road spirit.