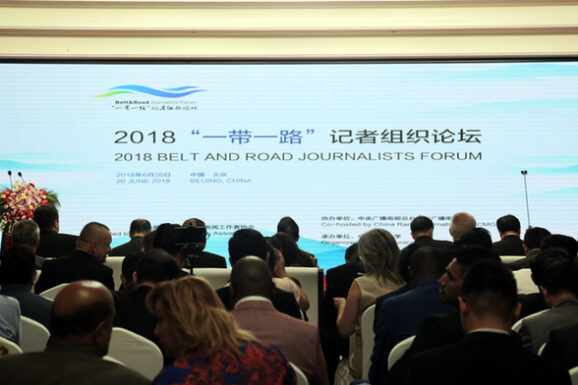 Scenes of the Forum
The 2018 Belt and Road Journalists Forum was held in Beijing on June 20. The forum, with the theme "building a new pattern for Belt and Road medium cooperation and exchange", was attended by nearly 100 journalist organization principals and media representatives of 47 countries and regions, including 24 chairmen and vice chairmen of regional and national journalist organizations. Jiang Jianguo, deputy head of the Publicity Department of the Central Committee of CPC and minister of the State Council Information Office addressed the forum. Zhang Yannong, President of All-China Journalists Association, Vladimir Solovyev, Chairman of the Russian Union of Journalists, Thepchai Yong, President of Confederation of ASEAN Journalists, Abdulwaheed ODUSILE, President of the Federation of African Journalists and heads of the Thai Journalists Association, the Union of Bulgarian Journalists, the Sudanese Journalists Association and the Primera Plana Club delivered speeches at the Forum.
The forum adopted the Consensus for Cooperation among Belt and Road Journalist Organizations, stating that the Belt and Road Initiative has vested new connotation to the ancient Silk Road, provided a new platform and injected new momentum for the exchange and cooperation among the countries; it also stressed to strengthen the exchange and cooperation among journalist organizations of Belt and Road participating countries, promote the communication and mutual learning among press and media, editors and journalists of all countries, promote the friendly exchange among the people of all countries to share the new opportunities of development.
It was agreed at the forum to promote the establishment and improvement of the cooperation mechanism of the Belt and Road journalist organizations and further deepen the pragmatic cooperation.
During the forum, All-China Journalists Association signed Belt and Road news cooperation and exchange agreements with journalist organizations from more than 20 countries and regions.
In the sub-forum session in the afternoon, the attending guests conducted in-depth discussions on topics of "integrative development of media to build new channels of communication", "new opportunities for exchange and cooperation of the press circle of BRICS countries", "new opportunities for exchange and cooperation of the press circle of China and Africa", and "exchange and cooperation of local journalist organizations and media of China and Russia", further enhancing mutual understanding and promoting joint cooperation.